I'm a longtime user and fan of SCOTTEVEST tech-enabled clothing as a stylish and convenient way to carry gadgets.
The company recently released a new Blackout Pocket, a standalone pocket made to keep your most sensitive information private using a technology similar to that which law enforcement and the military utilize to preserve electronic evidence.
Ideal for gadget loving travelers, the pocket is designed to protect your cell phone, credit cards, passport, and mobile devices from the nefarious efforts of identity thieves, RFID (radio-frequency identification) skimmers or NSA surveillance.
Available in three levels of protection, and offered at a discounted introductory price, the Blackout Pocket is lined with proprietary RFID Armor material to protect your digital valuables.
It's day three. You swear you packed your favorite fleece zip-up. But where the heck is it? Not a problem you'll ever experience again if you learn to organize your clothes in Eagle Creek Packing Cubes. With a different color for shorts, socks, t-shirts and undies, you'll find what you're looking for, fast. Better yet, no more blushing with embarrassment as the hot guy in line behind you watches the security inspector riffle through your Bridget Jones underwear. www.eaglecreek.com
If you knew me, you'd know that I love my job. Who wouldn't? I write about what I love - travel, people, adventure, gadgetry, etc. - AND I get to trot off often to experience this beautiful world and meet the awesome people who inhabit it.
So, why do you sense a 'but' coming. Probably because that's where this is going.
Today I've been digging out far-too-long-since-it's-been-used ski gear from dusty boxes in our garage for a Utah ski assignment. I leave tomorrow, and, as usual, I've left packing to the last minute. In fact, instead of packing, I'm studying the National Geographic Holiday 2008 catalog and kicking myself.
Here's why: Waterproof Fleece-lined Adventure Gloves.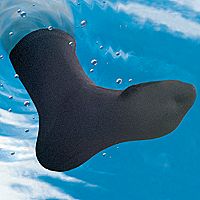 Had I planned ahead, I could've been hitting the slopes wearing "patented three-layer membrane, fleece-lined gloves that let perspiration out but prevent moisture from penetrating." Instead, I'm packing the ancient pair of dried out leather mittens that my forage into the garage produced.
Oh, I wish I had em'. Guess what's getting added to my Christmas letter?
BTW, I'm also adding the socks to my evergrowing wish list. I'm hopeless, I know, but they don't call me 'Gadget Girl' for nada.
Happy trails,
Ellen
ADVENTURE CHIC: Finally - A Women's Travel Vest to Love
SCOTTEVEST's new women's travel vest is custom made for on-the-go travelgirls.

I've always envied my male colleagues the practicality of their multi-pocketed, photojournalist vests, but hated wearing one myself. They're fine if you're a broad-shouldered, six-foot-something, two-hundred-pound male, but on smaller-framed females they're uncomfortably heavy, unattractive and scream journalist (can you say, target?) in places where I'd just as soon blend in.

Yet, it is handy to have everything I need within easy reach, discretely concealed on my person, rather than carrying them in a separate daypack or carryall, susceptible to theft or easy to leave behind.

Until now, the perfect vest eluded me. Not only did SCOTTEVEST design a functionally stylish vest with 21 streamlined, no-bulge pockets and hidden compartments in a lightweight, breathable and water repellant material, but, nipped at the waist and falling below the hips, it even flatters.

Better yet, it's wired for techno travelers, making it easy to carry and access gadgets on the go. Its earphone ports and internal conduit cord management system allow me to connect the headphones from my iPod and cell phone without entangling myself in a mess of wires every time I take it off.